Christmas is a hard time when we are missing someone we love and we all know they are never far from our mind. I could not do it at first but now I have these baubles with Mum's smiling face on our tree and I feel that she is part of Christmas with the rest of the family
When you order email me with the photo that you want included in the ornament.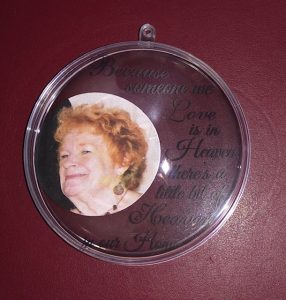 "Because someone we love is in heaven there's a little bit of heaven in our home"
£5.00 personalised with the photo of your love one.